Episode 403--"Control"
Writer
Ann Lewis Hamilton
Director
Ellen S. Pressman
Air Date
10/9/90
Guest Stars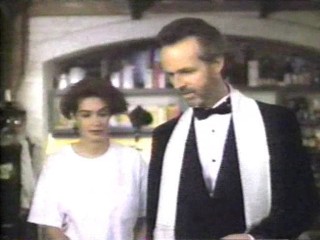 Richard Gilliand as Jeffrey Milgrom; David Clennon as Miles Drentel; Christopher Duncan as [unknown]
Synopsis
Melissa and Miles date briefly and he pulls that scary, creepy thing he does. Jeffrey and Ellyn shop for an apartment.
Summary
Melissa and Ellyn goof around the apartment while Ellyn takes pictures of Melissa. Melissa has a chance to be assigned to do a story on five notable Philadelphians, wins it, and then finds out that Miles Drentel is one of the five. Michael and Elliot manage to give her a complex about photographing Miles. While the interview is going on and Melissa is photographing him, the two make eye contact and there is some attraction. When the writer leaves, Melissa asks Miles what three things are in his refrigerator and they continue to banter and hit it off. Ellyn and Jeffrey experience morning chaos when the alarm doesn't go off and they end up realizing they need a new apartment. Melissa continues to photograph Miles while he does yo-yo tricks and they discuss the camera as an extension of the eye. He asks to see her portfolio over dinner. Melissa, Ellyn, and Michael debate Melissa's upcoming dinner with Miles and Michael seems subdued about it. Melissa is quite nervous at first, but warms up and tells Miles some family anecdotes, including the time Michael made a newspaper when he was 11 and filled it with embarrassing family facts. Ellyn and Jeffrey go apartment shopping but can't find anything that works. Michael approaches Miles about an account that Miles tossed him without mentioning that it was past due. Miles asks Michael about Melissa's work, saying that he thinks she has good talent. Melissa tries to discuss the Mojave deodorant campaign with Elliot who just wants to know about her date with Miles. She found him interesting, but Michael cautions her against trusting him too much, which Melissa resents. Miles shows up at the loft in a tuxedo with a bunch of flowers, saying that he's sent her portfolio off to New York to a significant person. Miles comes in for just a moment and departs oddly. Jeffrey tries to chuck some of Ellyn's books and she rescues them. Ellyn suggests getting some nice set of book shelves, which Jeffrey resists since he wants to get completely back on his feet financially. Melissa goes to Miles' apartment for dinner and looks through the slides he has in the projector. She evaluates the pictures as having distance before she realizes that Miles took them. After dinner Miles makes a very strong move which Melissa has to resist with some force. Miles somehow makes it seem her fault for being afraid. At D.A.A., Melissa is cagey, dropping things off with Michael rather than coming inside. Michael realizes that something has happened, but Melissa won't open up. Michael followed up on the account Miles dropped on him and manages to knock it back into Miles' office. Ellyn surprises Jeffrey with a new sofa (which is quite ugly) and it all boils down to a discussion about how quickly things are moving and Ellyn marches off. Miles stops by the loft to apologize with a note saying "I'm Sorry." He confesses some of his fears to her about failing and burning out. He saw her as a bright creative star who could help him feel less sad somehow. Michael stops by the loft the next day and Melissa tells him that the woman in New York liked the portfolio that Miles sent. They reminisce about childhood and how when playing The Dirty Dozen Michael made her jump off the roof and she broke her arm, but Melissa trusted him implicitly and would do it again. Still, she needs to take care of herself now and jump off her own roofs.
Notes
The takeover attempt is mentioned; Miles served in Vietnam in in the CIA involved with "the hearts and minds thing"; Miles has a maid; as a child, Melissa dyed her hair with Kiwi shoe polish; Melissa went to NYU; Ellyn owns most of the old Cherry Ames, Student Nurse book series; Aunt Bea, Cookie, and Muriel are the Steadman aunts; Melissa's photos were done by Deborah Roundtree
Fashion
Miles wears a pumpkin colored jacket to dinner; Melissa wears one earring on two occasions. Melissa also wears a bizarre blue lycra dress with a zipper down the front, no shoulders, and separated sleeves.
Quotes
--"Have you ever been interviewed?" --Miles

--"I've been in therapy. Does that count?" --Melissa
Analysis
This is yet another hint that Miles is beginning to crumble.
---
To return to the Season Four index
To return to Bedford Falls home