...and other driblets of yuppie angst
Welcome to the Bedford Falls web site, repository of all things related to the ABC television show thirtysomething. Follow the lives of seven thirtysomething yuppies, linked by blood, love, fate, and really bad taste in relationship partners.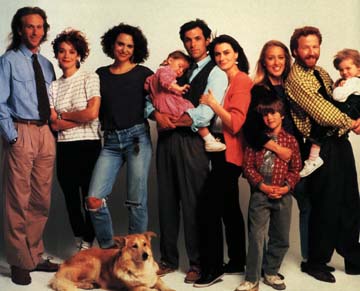 photo provided by Pam Martorano from the thirtysomething soundtrack booklet
(left-right) Gary Shepherd, Melissa Steadman, Ellyn Warren, Janey Steadman, Michael Steadman, Hope Murdoch Steadman, Ethan Weston, Nancy Krieger Weston, Elliot Weston, Brittany "Britty" Weston, and Grendel
Yo! It's our guestbook, so sign it. (It works now, by the way).
Yo! View the Guestbook, huh?
---
This page and all its original contents are the property of Lisa A. Stevenson (copyright January 1997) and may not be used without her permission (though she's a complete pushover and would gladly give it if you e-mail her nicely or offer to send chocolate chip cookies).
---